Details

Category: Documentaries
Where to watch:

Amazon Prime Video

Language:

Spanish

Year:

2020

Show Date:

2023-12-13
When a family grows concerned for their mother's well-being in a retirement home, private investigator Romulo hires 83-year-old Sergio to become a new resident and a mole inside the home.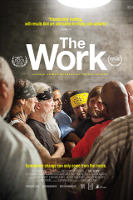 Details

Category: Documentaries
Where to watch:

Amazon Prime Video, Apple Itunes

Language:

English

Year:

2017

Show Date:

2023-12-14
Within the confines of the infamous Folsom Prison, level-four convicts—prisoners assigned to maximum security—meet for an intensive three-day group therapy session that serves as part of their rehabilitation. It's there that arguably most intense moments of their stay takes place, when the convicts reach deep inside themselves to revisit their past traumas and vulnerabilities that have played a role in their violent behavior. The Work follows three outsiders who join the retreat, slowly revealing their own therapy progress as their expectations about both the convicts with whom they interact—and their own notions of masculinity—are completely shattered. It is at times heartbreaking, terrifying, and incredibly urgent.